Light Box / Menu System 超薄型多功能燈箱
We have a variety set of stock images. Including: Chinese, Western,
Japanese, Vietnamese, Thai, Hawaiian, Café, Dim Sum, Buffet.....
本公司備有上千張精美菜圖供選用:
包括中式,西式,日式, 越式,泰式,夏威夷餐,快餐,港式西餐,自助餐,點心等.
---
Crystal LED Light Box
Great design

Clear plastic design with edge-lighting

Flexible Assembly

Mount horizontally or vertically and replace films easily

multi-purpose

Use as menus, advertisements, and displays in restaurants, stores, conventions, receptions, and other functions!

features

Your choice of flouresent or LED lamps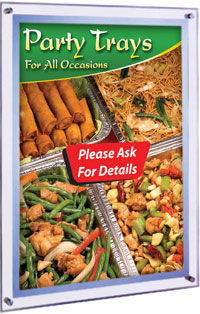 LED FL 2417
Size: 28.5" x 21.5"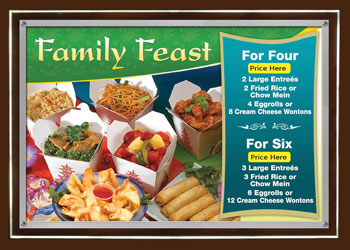 CN–LED A1
Size: 37" x 26.75"

Example of 4 – panel mounted vertically
Example of 4 – panel mounted horizontally
Crystal LED Light Box

| Item # | Box Size | Film Size | Box Price | Film Price |
| --- | --- | --- | --- | --- |
| LED–FL2417 | 28.75" x 21.5" x 0.375" | 24.5" x 17" | $324 | $85 |
| LED–FL3624 | 40.5" x 28.5" x 0.375" | 36.5" x 24.5" | $435 | $175 |
| LED–FL2740 | 44.25" x 31.25" x 0.375" | 40.25" x 27.25" | $488 | $216 |
| CN–LED A1 | 37" x 26.75" x 0.375" | 33.5" x 24" | $550 | $182 |
50% deposit required when purchase order confirmed
Price might change without further notice
Any purchase order needs final confirmation
All our prouducts adaptors have UL approved number and have one year limited warranty
All light box custom-made size available. Turnaround about 50 - 60 days
Design charge: $45 / hr. based on designer'stime. Please ask for quote
Add 25% of film charge for lamination and price separation. (Prices are changeable and printed separately)